Welcome to Arranmore Charters, situated off Northwest Donegal along Ireland's stunning Wild Atlantic Way!
During your visit to Donegal's Wild Atlantic Way, why not come along and experience one of the many marine activities which we offer on 'Elsie Jayne' our charter boat. The Elsie Jayne can be chartered to provide a range of marine based leisure activities, including diving, wreck diving, sea angling, sea safari trips, seal watching & our ever popular marine heritage tours.
Our Charter Boat: Elsie Jayne
In July 2014, we took delivery of our newly constructed, purpose built charter vessel named Elsie-Jayne. Elsie-Jayne is an Evolution 38, built to meet Department of Marine P5 passenger boat regulations & is fully licenced to carry 12 passengers + 2 crew. Elsie-Jayne is fitted with the IVECO 420hp engine.
Diving Charter: On board Elsie Jayne, there is ample deck space which can easily accommodate double tanks, twin sets and re-breathers. The large double bench deck seating can comfortably accommodate 12 divers + kit. An additional feature of the Elsie Jayne is the electric dive lift which has been installed to assist divers/technical divers with additional equipment.
Sea-Angling Charter: Our charter boat is furnished with fishing rod holders for the convenience of anglers. Rods are also available on board.
Sea Safari & Marine Heritage Tours, Seal Watching Trips, Private Charters:For the comfort of all our passengers, there is ample cabin seating, galley facilities, shower facilities and WC.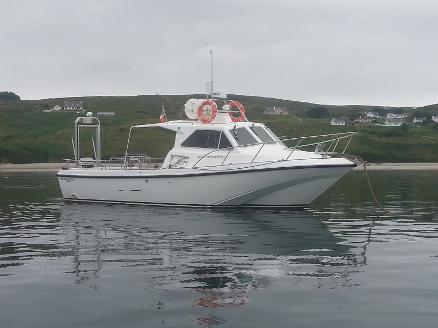 Elsie-Jayne Charter Vessel can be chartered for
Diving, Snorkeling, Sea Safari Tours
Angling Trips – half day or full day
Corporate Groups
Island Hopping – half day tours
Coastal Trips – half day tours
Commercial Charter for filming
Seabed surveys/inspections
Buoy placement
Crew Transfers
Guard/safety boat for marine leisure activities
The Skipper:
Jim Muldowney is the owner and skipper of the  Elsie Jayne Charter Boat.  He is the holder of a Skippers Ticket and has all the relevant qualifications, experience and skipper proficiency required for vessel charter.  Jim is also a MON 2 diving instructor/examiner and has first hand experience of  dive sites in the area.  As  a seasoned angler and seafarer in the area, Jim has acquired over the years a bountiful knowledge of the local sea area and its maritime history.
 VHFs
Radar & GPS Chart Plotter
Structure Scan
Auto Pilot
Bow Thruster
Echo Sounder
EPIRB
Solas Life Raft
Life Jacket
Flares
Oxygen
First Aid Kit